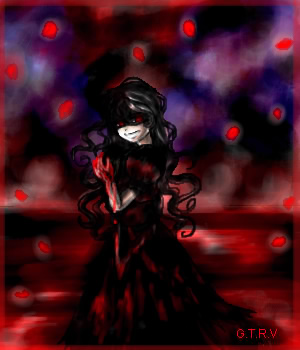 +++
Notes: Another Off-topic character
Inspired in an imaginary PV I have on my mind for the song Bel Air, I know the real PV has nothing to do with my mind thingy, but Im gonna say the thing I imagine (Warning : ITS A LOT, even if its resumed)
A 15 years old girl abused by her father for many years developes two personalities, an aggressive little girl one, and a sad girl of her same age. One day she attacks her father and has two choices, listen to the little girl, who hands her a knife, or the sad girl who shows her the exit, she listens to the little girl. Then in a black scene (her mind) you can see the sad girl captured in huge glass and the little girl with a rose in her hand. The girl continues stabbing her father and cuts his legs and arms and throws them to the street, a scared neighbor then calls an ambulance, because this girl doesnt seems sane anymore...
Any time the girl stabs the body of her father the little girl takes out a petal, and when she takes out the last petal, the scene goes to her mind again where the sad girl was locked, and, feeling unable to do anything, the sad girl hits with all her strenght the glass. In the girl face you can see how the hit that the sad girl gave to the glass makes her aware of what she is doing for a moment, she sees herself in one of those romms for insane ppl and looks her hands, they are full of blood. Then, the camera shows the background, and it begins to bleed, the girl beguns to feel scared and suddenly falls in the floor filled with blood while red drops are falling from the ceiling.
Then, you see how the girl tries to reach with her left hand some drops of blood from the ceiling. In her mind, the little girl laughs while she dances in a floor filled with blood with petals falling from the sky, and the sad girl just looks the petals falling outside the glass.
When the hand of the girl is full of blood, she takes out her right hand with the knife and stabs herself... Then you see the little girl laughing with her hands with blood while the petals are still falling (The pic =P) and the sad girl crying in her prison...
At the end, you see the girl going trough a white passage and taking the hand of the little girl who was waiting her, and in the dark room the sad girl dead. At last, the camera goes up to focus the last petal falling...